Piano Casters and Wheels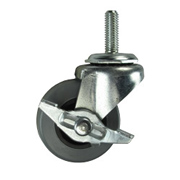 Service Caster has a wide selection of wheels and casters for pianos. Piano casters available for new and replacement applications. Protect your floors with wheel selections for hardwood, tile, carpet, or concrete.
TIP: Send us an image of the caster you are replacing or of the attachment point to assist in choosing the ideal caster for your piano.
Call toll free 1-800-215-8220 to purchase piano casters and wheels, or for more information and inquiries.
Email info@servicecaster.com
Piano Casters, Wheels and Rollers
Pianos are large, heavy, and sometimes fragile instruments; moving them even a small distance can sometimes prove to be a difficult challenge. Piano casters and wheels manufactured by Service Caster can make that challenge much easier by allowing the piano to roll easily on its legs. If your piano already has casters, but they are broken or not suitable for the surface the piano rolls upon, we can help. We also have solutions for pianos that currently have no casters.