Flanged Track Wheels - Double Flanged Track Wheels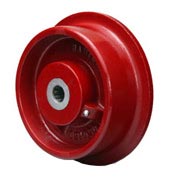 Service Caster Corporation designs, manufactures, and distributes flanged wheels with single and double flanges. Flanged wheels are designed to withstand industrial applications at both floor and overhead levels. Models available for new applications and as replacement track wheels. Complete line of flanged casters available.
Call toll free 1-800-215-8220 to order flanged track wheels, fast shipping. Our on site caster engineers are here to assist you in choosing the ideal wheels for your application.
Email info@servicecaster.com for more information about our casters and wheels.
Flanged and Double Flanged Wheel Applications
The single flanged wheel is designed to roll both on a track or rail, maintaining controlled mobility. A double flanged wheel performs well when accurate tracking is desired. This can be advantageous for controlling workflow as well as getting loads up off of the floor. Flange wheels can handle a variety of industrial, institutional, and commercial environments and applications including kilns, ore carts, mining carts, and railroad carts.
Overhead crane wheels are often a flanged model, providing safe, easy rolling with and without load. Consult with our sales engineers for the proper track wheel regarding your crane and material handling equipment.
Flanged wheel casters can be made to handle extreme weight capacities, providing your industry with the perfect wheel and caster setup.