Flanged Wheel Casters
for Track Use at All Levels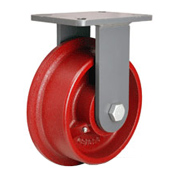 Optimized control and stability for ground level or overhead applications. Service Caster has light duty through extra heavy duty models for all commercial and industrial environments in both single flange and double flange wheel caster configurations.
Applications include production lines, foundry cooling lines, mobile cranes, amusement parks, trollies and autoclave tooling. Overhead cranes run safely and smoothly with high capacities on Service Caster products.
Please call toll free 1-800-215-8220 to order flange wheel casters or for assistance from our premier sales engineers.
Email info@servicecaster.com for more information about our industrial casters and wheels.
Flanged wheels are constructed of premium cast iron, ductile iron, or forged steel for high strength and long wear. Track wheels are designed to operate on a steel track for minimal guidance and rolling effort. Casters with flanged wheels are rigid casters used for locating fixtures in a precise position for indexing through a work cycle. View our single and double flanged wheels at the Service Caster online store, if no fork assembly and top plate are required.