Single Wheel Hooded Monarch Caster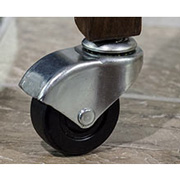 The Monarch caster is a great choice for institutional and office equipment, furniture, and carts with load capacities from 80 to 120 pounds per caster.
Features heat treated double ball bearing raceways for easy swiveling action. Zinc plated steel for added corrosion resistance and aesthetics.
Choose from a wide variety of wheels to best suit your flooring.
Speak with our sales pros at 1-800-215-8220 to place an order or for further assistance in determining the caster best suited for your chair, furniture or equipment.
Find out How To Measure Caster Stems.
Threaded Stems
Fastener Code
Length
(Inches)
Diameter
(Inches)
Thread Pitch
(UNC)
507
1
5/16
18
605
1-1/2
3/8
16

Monarch Single Wheel Caster - Threaded Stem
Wheel
Dia.
(Inches)
Tread
Width (Inches)
Tread
Type
Capacity (lbs)
Mounting
Height
(Inches)
Swivel
Radius
(Inches)
Part
Number
Fastening
Selection
2
13/16
Soft Rubber
80
2-5/8
2-1/16
PMN20___ZN-3R
507, 605
2
13/16
TPR
80
2-5/8
2-1/16
PMN20___ZN-TPR
507, 605
2
13/16
Hard Rubber
90
2-5/8
2-1/16
PMN20___ZN-3H
507, 605
2
13/16
Polyurethane
90
2-5/8
2-1/16
PMN20___ZN-TPU
507, 605
2
13/16
Solid Polyurethane
90
2-5/8
2-1/16
PMN20___ZN-3ES
507, 605
2
3/4
Polyolefin
90
2-5/8
2-1/16
PMN20___ZN-3E
507, 605
2
7/8
Vipor
90
2-5/8
2-1/16
PMN20___ZN-VPR01(CG)
507, 605
2-1/2
13/16
Soft Rubber
80
3-1/8
2-1/8
PMN25___ZN-3R
507, 605
2-1/2
13/16
TPR
80
3-1/8
2-1/8
PMN25___ZN-TPR
507, 605
2-1/2
13/16
Hard Rubber
95
3-1/8
2-1/8
PMN25___ZN-3H
507, 605
2-1/2
13/16
Polyurethane
95
3-1/8
2-1/8
PMN25___ZN-TPU
507, 605
2-1/2
13/16
Polyolefin
95
3-1/8
2-1/8
PMN25___ZN-3E
507, 605
3
13/16
Soft Rubber
110
3-1/2
2-1/2
PMN30___ZN-3R
507, 605
3
13/16
TPR
110
3-1/2
2-1/2
PMN30___ZN-TPR
507, 605
3
13/16
Hard Rubber
120
3-1/2
2-1/2
PMN30___ZN-3H
507, 605
3
13/16
Polyurethane
120
3-1/2
2-1/2
PMN30___ZN-TPU
507, 605
3
13/16
Polyolefin
120
3-1/2
2-1/2
PMN30___ZN-3E
507, 605
3
13/16
Monotech
120
3-1/2
2-1/2
PMN30___ZN-MNT
507, 605
3
13/16
Vipor
120
3-1/2
2-1/2
PMN30___ZN-VPR01(CG)
507, 605
Grip Neck Stem
Fastener Code
Length
(Inches)
Diameter
(Inches)
302
1-1/2
5/16
Grip Ring Stems & Round Post
Fastener Code
Length
(Inches)
Diameter
(Inches)
211
1-7/16
7/16
223
7/8
7/16
Monarch Single Wheel Caster - Grip Ring and Grip Neck Stem
Wheel
Dia.
(Inches)
Tread
Width (Inches)
Tread
Type
Capacity (lbs)
Mounting
Height
(Inches)
Swivel
Radius
(Inches)
Part
Number
Fastening
Selection
2
13/16
Soft Rubber
80
2-5/8
2-1/16
PMN20___ZN-3R
302, 223, 211
2
13/16
TPR
80
2-5/8
2-1/16
PMN20___ZN-TPR
302, 223, 211
2
13/16
Hard Rubber
90
2-5/8
2-1/16
PMN20___ZN-3H
302, 223, 211
2
13/16
Polyurethane
90
2-5/8
2-1/16
PMN20___ZN-TPU
302, 223, 211
2
13/16
Solid Polyurethane
90
2-5/8
2-1/16
PMN20___ZN-3ES
302, 223, 211
2
3/4
Polyolefin
90
2-5/8
2-1/16
PMN20___ZN-3E
302, 223, 211
2
7/8
Vipor
90
2-5/8
2-1/16
PMN20___ZN-VPR01(CG)
302, 223, 211
2-1/2
13/16
Soft Rubber
80
3-1/8
2-1/8
PMN25___ZN-3R
223, 211
2-1/2
13/16
TPR
80
3-1/8
2-1/8
PMN25___ZN-TPR
223, 211
2-1/2
13/16
Hard Rubber
95
3-1/8
2-1/8
PMN25___ZN-3H
223, 211
2-1/2
13/16
Polyurethane
95
3-1/8
2-1/8
PMN25___ZN-TPU
223, 211
2-1/2
13/16
Polyolefin
95
3-1/8
2-1/8
PMN25___ZN-3E
223, 211
3
13/16
Soft Rubber
110
3-1/2
2-1/2
PMN30___ZN-3R
223, 211
3
13/16
TPR
110
3-1/2
2-1/2
PMN30___ZN-TPR
223, 211
3
13/16
Hard Rubber
120
3-1/2
2-1/2
PMN30___ZN-3H
223, 211
3
13/16
Polyurethane
120
3-1/2
2-1/2
PMN30___ZN-TPU
223, 211
3
13/16
Polyolefin
120
3-1/2
2-1/2
PMN30___ZN-3E
223, 211
3
13/16
Monotech
120
3-1/2
2-1/2
PMN30___ZN-MNT
223, 211
3
13/16
Vipor
120
3-1/2
2-1/2
PMN30___ZN-VPR01(CG)
223, 211
Top Plates
Fastener Code
Top Plate
(Inches)
Bolt Hole Spacing
(Inches)
Bolt Hole Size
(Inches)
108
1-3/4 x 2-5/8
31/32 x 2-1/8
9/32
113
1-3/16 x 2
13/16 x 1-9/16
3/16
Monarch Single Wheel Caster - Swivel Top Plate
Wheel
Dia.
(Inches)
Tread
Width (Inches)
Tread
Type
Capacity (lbs)
Mounting
Height
(Inches)
Swivel
Radius
(Inches)
Part
Number
Fastening
Selection
2
13/16
Soft Rubber
80
2-5/8
2-1/16
PMN20___ZN-3R
113, 108
2
13/16
TPR
80
2-5/8
2-1/16
PMN20___ZN-TPR
113, 108
2
13/16
Hard Rubber
90
2-5/8
2-1/16
PMN20___ZN-3H
113, 108
2
13/16
Polyurethane
90
2-5/8
2-1/16
PMN20___ZN-TPU
113, 108
2
13/16
Solid Polyurethane
90
2-5/8
2-1/16
PMN20___ZN-3ES
113, 108
2
3/4
Polyolefin
90
2-5/8
2-1/16
PMN20___ZN-3E
113, 108
2
7/8
Vipor
90
2-5/8
2-1/16
PMN20___ZN-VPR01(CG)
113, 108
2-1/2
13/16
Soft Rubber
80
3-1/8
2-1/8
PMN25___ZN-3R
113, 108
2-1/2
13/16
TPR
80
3-1/8
2-1/8
PMN25___ZN-TPR
113, 108
2-1/2
13/16
Hard Rubber
95
3-1/8
2-1/8
PMN25___ZN-3H
113, 108
2-1/2
13/16
Polyurethane
95
3-1/8
2-1/8
PMN25___ZN-TPU
113, 108
2-1/2
13/16
Polyolefin
95
3-1/8
2-1/8
PMN25___ZN-3E
113, 108
3
13/16
Soft Rubber
110
3-1/2
2-1/2
PMN30___ZN-3R
113, 108
3
13/16
TPR
110
3-1/2
2-1/2
PMN30___ZN-TPR
113, 108
3
13/16
Hard Rubber
120
3-1/2
2-1/2
PMN30___ZN-3H
113, 108
3
13/16
Polyurethane
120
3-1/2
2-1/2
PMN30___ZN-TPU
113, 108
3
13/16
Polyolefin
120
3-1/2
2-1/2
PMN30___ZN-3E
113, 108
3
13/16
Monotech
120
3-1/2
2-1/2
PMN30___ZN-MNT
113, 108
3
13/16
Vipor
120
3-1/2
2-1/2
PMN30___ZN-VPR01(CG)
113, 108