Swivel Nylon Replacement Office Chair Caster With Pivot Boss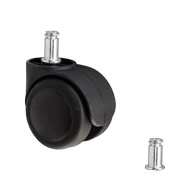 The replacement chair caster feature a sturdy nylon construction, swivel pivot boss, and the option of both nylon and urethane treads to meet the needs of any floor surface.
Speak with our sales pros at 1-800-215-8220 to place an order or for further assistance in determining the caster best suited for your chair, furniture or equipment.
Find out How To Measure Caster Stems.
Replacement Chair Caster - Grip Ring Stem
Wheel
Dia.
(mm)
Pivot Boss
Diameter
Tread
Material
Capacity (lbs)
Mounting
Height
(Inches)
Swivel
Radius
(Inches)
Part
Number
Fastening
Selection
55
1-1/2
Nylon
75
2-1/4
2-9/16
PHT55058BK-02532
58
55
1-3/4
Nylon
75
2-1/8
2-9/16
PHG55058BK-02532
58
55
1-1/2
Urethane
75
2-1/4
2-9/16
PHT55058BK-02524
58
55
1-3/4
Urethane
75
2-1/8
2-9/16
PHG55058BK-02524
58