Heavy Duty Dual Wheel Casters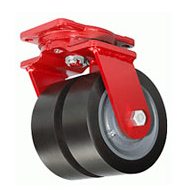 Service Caster distributes and manufactures all types of industrial and heavy duty dual wheel casters, including shock absorbing casters, metal wheel casters, and high temperature casters. Casters providing protection from water and chemicals are engineered to meet your needs in harsh environments. Dual wheel casters can be used on many different applications such as large platform trucks, machinery wheels, or anywhere an extra heavy duty caster is needed.
Dual wheel industrial casters can provide up to twice the weight capacity of similar single wheeled units . They also allow for easier maneuverability of the heavy duty applications in which they are used.
Call toll free 1-800-215-8220 to order heavy duty dual casters and for more assistance in choosing casters and wheels.
Excellent for tow lines, industrial platform trucks, rugged industrial functions and other severe abuse applications. The large footprint provides for a greater distribution of load on the floor. Less effort is needed when changing direction as the design allows the wheels to rotate at variable rates to compensate for the shorter radius in the arc.