Pallet Jack Replacement Wheels for Smooth Workflow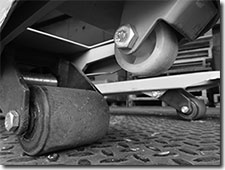 Pallet wheels distributed by Service Caster Corporation can meet all of your pallet jack and pallet truck wheel needs. Huge selection of load, steer and climb wheels.
All wheel models and brands for pallet wheels supplied by Service Caster online superstore. Replacement wheels for Wesco, Multiton, Atlas, Big Joe, and many other top name brands including Cown, Jet, Hyster and Lift Rite.
Call toll free 1-800-215-8220 to purchase pallet jack wheels and to speak with a sales representative.
Email info@servicecaster.com
View load roller reference table for make, model, and part number.
View steer wheel reference table for make, model, and part number.
See what Service Caster customers are saying: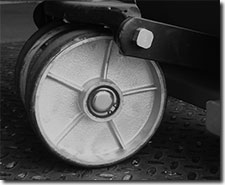 Pallet Jack Wheel Applications and Features
New application and replacement wheels for pallet jacks and pallet trucks of all models, types and brands are sold and distributed by Service Caster Corp.
We offer several different pallet truck wheel treads, depending on your use and floor type. Poly and Ultra Poly wheels are the most common non-marking, easy rolling wheel we stock for pallet jacks. We also offer steel wheels for heavy duty industrial settings, and Nylon wheels for settings where cold storage or rust are an issue.
Looking for wheels to attach directly to pallets? Try our Series #30 medium - heavy duty casters.