Scaffold Casters and Scaffold Wheels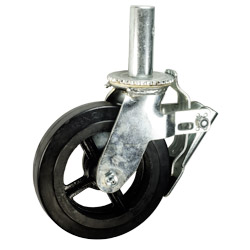 Service Caster Corporation designs, assembles, and distributes scaffold casters and scaffold wheels, keeping your scaffolding units mobile. In addition to keeping the workflow rolling, scaffold casters may be equipped with brakes for solid non-rolling stability. Speak to a caster and wheel pro for all sizes, brands and requirements for your scaffold wheel and caster needs.
Call toll free 1-800-215-8220 to purchase scaffold wheels and for assistance.
Email info@servicecaster.com.
Scaffold Caster Applications
Scaffold casters perform well for scaffolding and many other applications. Also suitable for floodlight stands, moveable platforms, and motion picture equipment.
Scaffold caster wheel sizes and weight capacities meet the requirements for any situation where scaffold and platform units need to be mobilized.
Grease fittings standard on certain scaffolding caster wheel models.