Series 30
Medium to Heavy Duty

Casters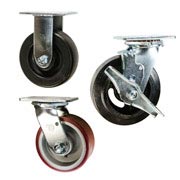 Medium heavy duty casters featuring capacities to 1,250 pounds. With double ball bearing heat-treated raceways, bright zinc plating, grease fittings and 5/8"(.625 inch) bolted kingpins, these casters are ideal for dollies, platform trucks, warehouse carts and freight terminals. Series #30 medium heavy duty casters are well-suited for food service carts, hotel housekeeping carts, and industrial and commercial equipment. Also ideal installed on drywall carts, welding carts, and wall panel carts.
Call Toll Free 1-800-215-8220 for Help and Ordering Series 30 Casters. Our expert staff can help you to choose the ideal casters for your business, industry, or institution.
info@servicecaster.com
Brake Options
Medium duty Casters offered by Service Caster have several brake options. Top Lock brake available on swivel casters only. Options include side lock brakes, total lock brakes, top lock brakes, face-contact brakes, and posi lock brakes.
Bearing Options
Choose caster bearings suitable for your application and workload. Options include delrin bearings, ball bearings, sleeve or plain bearings, precision bearings, and needle roller bearings.
Series 30 Options