Series 35
Cold Forged

Casters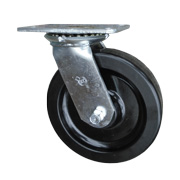 Featuring large double ball bearing raceways, heat treated for long wear and added strength, zinc finish and hardened spanner bushings. Series #35 Cold Forged Casters are designed for platform trucks, towline carts, maintenance carts, and freight terminal carts. Other applications include: Medium duty steer trailers and mobile platforms.
Series 35 is also available in a kingpinless design, featuring unique hot forged STM1045 steel design. Eliminate problems associated with kingpin failure from severe shock loading. Zinc plated, precision machined and induction hardened raceway provides smooth performance. 3/8" diameter HRC45 steel ball bearings absorb thrust and load in severe environments. Series #35 Kingpinless Swivel Casters are designed for wherever severe shock loads are anticipated.
Call Toll Free 1-800-215-8220 for Help and Ordering Series 35 Casters. Our expert staff can help you to choose the ideal casters for your business, industry, or institution.
info@servicecaster.com
Brake Options
Series 35 Casters offered by Service Caster have several brake options. Options include side lock brakes, top lock brakes, and face contact brakes.
Bearing Options
Choose caster bearings suitable for your application and workload. Options include delrin bearings, ball bearings, sleeve or plain bearings, precision bearings, and needle roller bearings.