Spring Loaded Shock Absorbing Casters
to 20,000 Pounds Capacity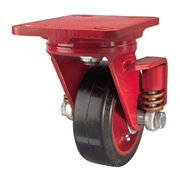 Service Caster Corporation distributes, builds and manufactures shock absorbing casters to protect both equipment and cargo. Shock absorption and vibration reduction are beneficial to the load, caster assembly, and floor surface. Speak to a representative for filling your shock absorbing caster needs. Need to set up an account? We are business-to-business specialists.
Look here for springloaded gate wheels and casters.
Please call toll free 1-800-215-8220 to order spring loaded casters and for more information on casters and wheels
Email info@servicecaster.com
Shock Absorbing Caster Applications
Service Caster manufactures and distributes shock absorbing casters built with high strength springs. Casters designed with cushioning the load and a quieter ride. A long swivel lead provides more protection from vibration and shimmy while in motion.
These shock absorbing casters are well-suited for dollies carrying aircraft parts, aircraft jacks, as stabilizing casters for lift trucks, and in-plant trailers.