U Groove Wheels and Casters for Easy Rolling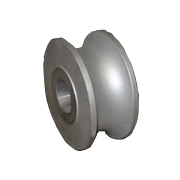 The u-groove casters and wheels manufactured and sold by Service Caster Corporation can meet your industrial and commercial needs regardless of environment. We engineer and build casters to specifications demanded by industry. U-groove wheels and casters are available from our own catalog, special order and design, hundreds of other brands through Service Caster. Call to speak with a representative for business-to-business selections and ordering
Order U Groove wheels by calling toll free 1-800-215-8220 and speak to our caster and wheel sales pros.
Email info@servicecaster.com
U-Groove Wheel Caster Applications
U-Groove wheels are a grooved wheel similar to v-groove wheels, but with a much more rounded shape.
The u-groove wheel shape can be used for a variety of applications. It can be used to raise workloads off of floors, or for tracked applications and controlled workflow. It is also commonly used on gates and doors as rollers, and can be used in any application that needs an object to roll along a pipe.
U-groove wheels come in many sizes, and can fit nearly any pipe railed application needed for industrial or commercial use. Chainlink fence gates rolling horizontally on pipe are a common use for these wheels.
U-Groove Wheel Caster Options
U-Groove Wheels can be purchased in a wide variety of materials such a polyurethane on steel or aluminum, cast iron, semi steel, ductile steel, and more.
U-Groove Casters have a wide array of connection types from top plate to bolt hole.
Different bearing options can be used depending on your application and most of the casters can be ordered with various styles of brakes.