Container Nose Rollers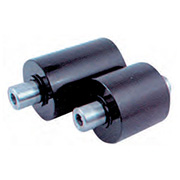 Roll off containers and roll off dumpsters both take a lot of abuse. Keep them operating smoothly with heavy duty nose rollers or roll off container wheels. With a 40,000 pound capacity, Service Caster nose rollers can handle any size container empty or loaded. Units complete with heavy duty axle.
Call Toll Free 1-800-215-8220 for Help and Ordering Nose Rollers. Our expert staff can help you to choose the ideal casters for your business, industry, or institution.
info@servicecaster.com for email inquiries.
Part
Number
Roller
Diameter
Inches
Roller
Width
Inches
Axle
Diameter
Inches

Axle
Length
Inches
Capacity
Pounds
Roller+
Axle
Weight
Pounds
Axle
Weight
Pounds
SCC-NR44
4
4
1.5
6.50
40,000
NR4 x 4
16.5
N1.5 x 6.5S
3.25
SCC-NR46
4
6
1.5
8.25
40,000
NR4 x 6
21.25
N1.5 x 8.25S
4.125
SCC-NR80
8
10
1.44
12.50
40,000
BR8 x 10
36
B1.44 x 12.5S
5.7