Snow Plow Wheels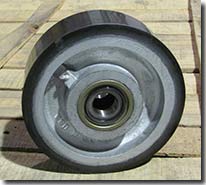 Service Caster is North America's source for heavy duty snow plow wheels and shoes or snow plow skids. Designed for lot clearing or the open highway, our wheels are fitted with tapered bearings, allowing for high speed performance. Heavy duty snow plow blade wheels in solid steel and rubber on steel treads. Ready for the road and winter environments, complete with tapered bearings able to handle high speeds and extended operation.
Snow Plow Shoes or Plow Blade Skid Plates
Our Service Caster snow plow shoes are designed for high speed, rugged use. Measuring 12 inches in diameter and 2 1/4 inches thick, this unit is attached by 2 bolts with 6 inch hole spacing for center. Reverse side has rounded edge for easier "floating." Forged from Austempered ductile steel. Built for long service!
Call Toll Free 1-800-215-8220 for Help and Ordering Snow Plow Wheels. Our expert staff can help you to choose the ideal casters for your business, industry, or institution.
info@servicecaster.com
Bearing Options
Choose caster bearings suitable for your application and workload. Options include delrin bearings, ball bearings, sleeve or plain bearings, precision bearings, tapered bearings, and needle roller bearings.