Faultless
®

Casters and Wheels Review*

Service Caster is a global distributor and manufacturer of casters and wheels for all applications and environments. The Faultless caster catalog has solutions for home and industry.

For assistance in choosing your caster or wheel, and to place an order, contact sales representatives at 1-800-215-8220 or email info@servicecaster.com.
Popular Series from the Service Caster Catalog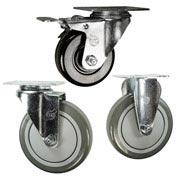 Light - Medium Duty to 300 Pounds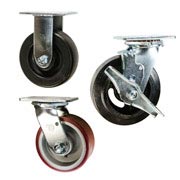 Heavy Duty to 1,200 Pounds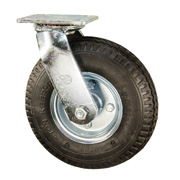 Pneumatic Wheel Casters
Faultless Casters and Wheels Series 100-500: Load Capacity 90-500 pounds per caster. Finished in corrosion resistant zinc, this model is suitable for general warehouse and factory applications: furniture dollies, laundry carts, bakers racks and tool boxes.
Faultless Casters and Wheels Series KPL1400-3400: Load Capacity 350-1,500 pounds per caster. Kingpinless Faultless caster offering more versatility with the same top plate dimensions and overall height as our KP1400 and 1400 Series. The horn assemblies are rated at 1,500 lbs.
Faultless Business Machine Casters: Load Capacity 200-1,200 pounds per caster. Models for supporting and moving heavy office equipment where overall height is a limiting factor. Ideal for copiers, computers, large printers and other heavy diagnostic equipment.
* Service Caster Corporation does not represent itself as an
authorized Faultless® distributor.